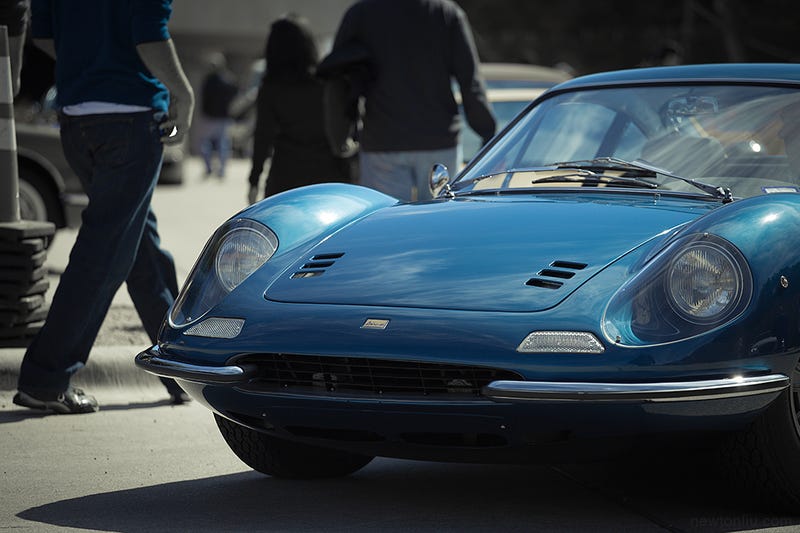 I never cared much for classic cars until recently in my 20s. For most of my life, particularly in my adolescent years, performance numbers defined the rank of a car and technology determined its desirability. It wasn't until last year I discovered the wonder of appreciating older cars that crowds overlooked and passed up at cars and coffee gatherings just to get a glimpse of and huddle around a new hypercar someone brought.
This here is a Dino 246GT. And I'll be frank, this particular example is one of most beautiful cars I have ever seen.
I knew very little about Dinos prior to photographing this car. In fact, as far as I can recall, I once confused the 246 with the Alpine A110 from afar (calm down, I can now distinguish them with ease). Shadowed by a collection of commonly agreed upon superior stallions, Dinos weren't particularly astounding Ferraris to me. Why have a poster of a 246 when you can ogle at a 288 GTO or F40 instead? Yet unbeknownst to many, it was the Dino that brought the mid-engine platform to Ferrari. For those reasons, these cars have become increasingly appealing and garnered a somewhat cult status in F-car kingdom. In my opinion, understated beauty is the best kind of beauty.
As I was capturing the immaculate attention to detail on the car, a man approached me. "Get the shot?" he asked. Sure I guess. Oops, upon realizing he held a camera as well, I asked if I was in his way. "Oh no, that's just my car."
As it turns out, this particular 246 is even more unique than I had imagined. The owner, a man who identified himself by the name of Andy, has reason to believe it's one of the very first ones, if not THE first 246GT, to roll of the production line in Maranello. Naturally, that makes it an early 1969 "L" model, rarest among the 246s and one of only 357 built that come with wheels off the similarly styled predecessor, the Dino 206GT.
Andy acquired this car in 1977 from Switzerland and has since had it be a part of his collection. The car received a host of restoration touches throughout its lifetime including a reupholstered interior and rebuilt engine. In keeping the car a perfect rendition of an original 246, almost all parts are original and period correct.
As someone who selects to drive particular lanes on the highway in an effort to minimize rock chips and reduce tire and suspension wear, it's well understood that keeping a car incredibly spotless is no easy task, even if the car isn't driven daily. The transversely mounted 2.4 liter six in this Dino is so flawless that photos of it turn out like video game renderings. And given the car appeared at a hilltop gathering leads to me to believe it doesn't spend all 365 days tucked away inside an air conditioned garage either.
Consistent to its modest manner, the car drew a few eyes but received relatively little attention as a choir of modern V12s, 10s and 8s fired up near event-end. As it puttered away, I realized I had not asked Andy about an aspect of the car that captured me in the first place: the name of the gorgeous blue color, despite him mentioning that the color was not original.
And yet again, as with the most captivating people, places and cars that I've encountered throughout my life, my time with admiring it was short lived and left me with only wanting to know more. For now, I can only remember it as the lady dressed in sapphire.
Edit - As requested, 1080 wallpaper:
newton is a gen-Y Bimmerphile and gearhead based in Austin. He tries to write about cars whenever he could at newton.kinja.com. Actually, you're already there. And he enjoys starting sentences with conjunctions. He wrote this entire bio himself in third person because he aspires to be a Doug Doge Demuro when he grows up.